DANCING IN THE SKY
BANDALOOP creates in a wide variety of contexts. Our site-specific performances are presented in theaters and museums, on skyscrapers, bridges, billboards and UNESCO Heritage sites, in atriums and convention halls, in nature on cliffs, and on screen in films and video content. We partner with performing arts organizations, corporations, government agencies, brands and tastemakers to present one-of-a-kind performances. BANDALOOP is committed to creating experiences that bridge cultures and people, and inspire global empathy.
If you are interested in booking BANDALOOP for your upcoming event or project, please contact booking@bandaloop.org.
TYPES OF LOCATIONS
SELECTED REPERTOIRE
BANDALOOP creates dynamic evening-length shows for festivals and performing arts centers worldwide. From proscenium theaters to university campus centers to landmark city buildings, BANDALOOP partners with the host organization to present one-of-a-kind indoor and outdoor dance performances, engage with local communities and draw diverse audiences for the arts.
#PublicCanvas is an evening-length outdoor performance which unites vertical dance, local content, music and spoken word to reframe the experience of urban community. PublicCanvas was performed in Providence, RI, and will have performances in Oakland and Atlanta in 2019.
"Strings" is BANDALOOP's latest indoor creation, featuring an original score by composer/DJ/producer Gabriel Prokofiev. Commissioned by University of Washington's Meany Hall this spellbinding work uses ropes and innovative rigging systems to explore our connections and the ways we anchor to, connect with, effect, restrain and release one another.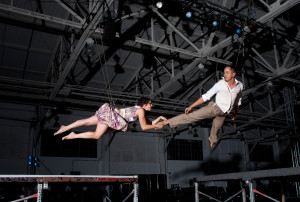 BANDALOOP'S Harboring moves through images of travel, memory, the fluidity of the ocean, rope craft and maritime industry using the medium of site-reactive multi-dimensional dance. Harboring is an immersive indoor and outdoor workthat brings BANDALOOP's celebrated scale and excitement within arm's reach of the audience. The sold out world premiere of Harboring took place at the historic Fort Mason Center in San Francisco in 2013 and has gone on to tour Maui, Nashville, and Taiwan.